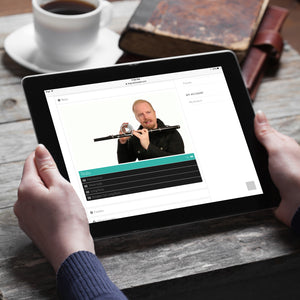 Online Irish Flute & Whistle Lessons - Gift Membership
Regular price $149.95 Sale
Set your friends or family up for success with a membership to Blayne Chastain's online Irish flute and tin whistle lessons! 
(To sign up yourself, simply head over to www.BlayneChastain.com to get started!)
"I'm now able to play at an advanced level after taking your online course for just a year. You've helped make a lifelong dream come true!"
Brennan Woo, Texas
Course Features: 
Tunes (150+) Taught Both With & Without Ornamentation
Video Lessons Split into Multiple Chapters to Aid in Learning
Tunes Taught Phrase by Phrase to Learn by Ear
Sheet Music Available in .pdf Format
.mp3 Files Available for Each Tune
Beginning Courses for Tin Whistle and Irish Flute
Extensive Technique Video Libraries
Blayne's Personal Support
Student Forums
Gift Membership Delivery:
Gift memberships are delivered in the form of a unique code which you give the recipient (write it in a card, email, etc.). 
As these are processed manually, please allow 1 to 2 business days for code delivery via email to you.