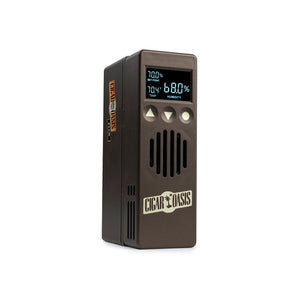 Plus 3.0 Active Humidifier
The Plus 3.0 active humidifier by Cigar Oasis takes all the worry and fuss out of storing and maintaining your wooden flutes & whistles. Perfect for cabinets from 4 to 10 cubic feet (think larger mini-fridge).
Like all Cigar Oasis humidifiers, the Plus 3.0 comes preset to 70% RH but can be set easily to your preferred humidity level (we recommend 55%). The sensor constantly monitors the humidity which then activates the fan as needed to circulate moisture evenly keeping your flutes & whistles healthy & happy!
Pre-treated water cartridge requires distilled water only (approx. 2-4 months for refiling)
Powered by a thin but durable electronic ribbon cable
Large backlit display with live humidity & temperature readings
Soft to the touch sensor buttons to adjust your humidity set point
Built-in Wi-Fi capability for optional use with the Cigar Oasis SmartHumidor™ IOS & Android app
Suitable for spaces from 4 to 10 cubic feet (think large drawer to small mini fridge)
Dimensions: 6" x 2" x 3.5"