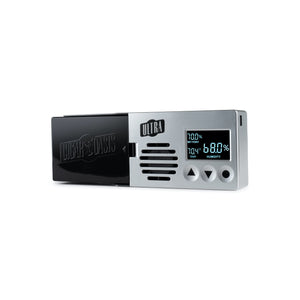 Ultra 3.0 Active Humidifier
The Ultra 3.0 active humidifier by Cigar Oasis takes all the worry and fuss out of storing and maintaining your wooden flutes & whistles. Its slim profile makes it the most attractive and efficient humidification solution for small spaces (up to 1.5 cubic feet).
Like all Cigar Oasis humidifiers, the Ultra 3.0 comes preset to 70% RH but can be set easily to your preferred humidity level (we recommend 55%). The sensor constantly monitors the humidity which then activates the fan as needed to circulate moisture evenly keeping your flutes & whistles healthy & happy!
Pre-treated water cartridge requires distilled water only (approx. 2-6 weeks for refiling)
Powered by a thin but durable electronic ribbon cable
Large backlit display with live humidity & temperature readings
Soft to the touch sensor buttons to adjust your humidity set point
Built-in Wi-Fi capability for optional use with the Cigar Oasis SmartHumidor™ IOS & Android app
Suitable for spaces up to 1.5 cubic feet
Dimensions: 7" x 2.5 x 1"